Chiropractic Care
Restore Your Health, Naturally
Chiropractic care represents a drug-free, nonsurgical solution to better health. At The Chiropractic Health Center, we use this type of natural care to look at the bones of your spinal column. When there is interference with your body's structure, your nervous system doesn't work at its full capacity. The result is often dis-ease, with you being unable to heal as you were meant to.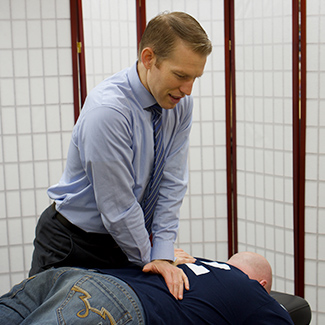 You may experience numerous benefits with chiropractic care, such as:
Balanced moods
Better sleep
Boosted immunity
Decreased pain
Greater energy
Improved learning and focus
Prevention of common health issues
Another intangible benefit that is equally important is the education you'll receive as a patient of Dr. Birchler's. We feel it's our duty to share our knowledge about health so that you can improve the way you and your family live.
An Array of Techniques
Chiropractic care is safe for people of all ages. We'll match the technique used to your condition and comfort level. Chiropractic adjustments do not usually hurt. If you're already in acute pain, there may be some tightness or soreness, though your body will quickly adapt and improve. Once you're feeling better, we welcome you to enter wellness care so that you can maintain your well-being with regular visits.
There are several adjusting techniques Dr. Birchler utilizes:
Diversified and Gonstead. These hands-on methods locate the problem vertebrae, then make a precise correction to remove this interference from your nervous system.
Activator Methods®. This handheld instrument adjusts your spine with a low force. It's appropriate for those who have osteoporosis or are otherwise concerned about pressure on the spine.
Flexion-Distraction. A mechanical traction process works on your lower back, making it ideal for those with disc herniation, sciatica, disc bulges and the resulting leg or back pain.
Thompson Drop. This form of table-assisted adjusting has a drop piece to reduce the pressure put on your body.
Spine Rehabilitation. In-office rehabilitation uses Pettibon methods and equipment including a Therapeutic Wobble Chair™, cervical traction and curve restore.
Additionally, we offer Foot Levelers custom-made orthotics to give your body a stronger foundation.
CONTACT US
Contact us today to find out what we can do for you! Extended hours and same-day appointments are available for your convenience.
Chiropractic Care Chippewa | (724) 384-0410